Yancey Richardson Gallery: Warhol Vintage Portraits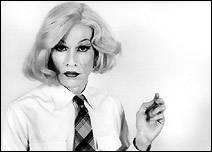 The Yancey Richardson Gallery in New York shall present the Warhol: Vintage Portraits exhibition until June 29. The black and white portraits by Andy Warhol were created within two days in 1981 as a project between himself and artist Christopher Makos.
A total of 349 different photos of Warhol in front of his white studio wall were realized, only the make-up and wigs he wore varied. The whole project was inspired by Man Ray's famous Portrait of Marcel Duchamp, who posed for Many Ray as his alter ego Rrose Sélavy.