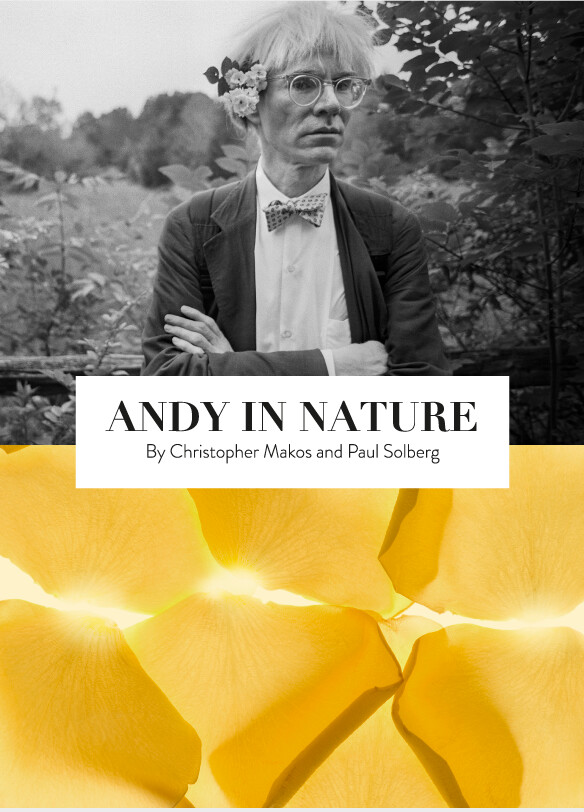 23 September 2022
Andy in Nature
Time
6pm-9pm
Venue
Forest Hall
214 Broad Street
Milford Pennsylvania
USA
Program
This exhibit is Warhol away from the Factory, away from New York, enjoying a restorative and deep engagement with the natural environment, at the beach, in the woods and in the Colora-do mountains. The exhibit challenges the caricatured image of the commercial, caracturized And Warhol as a plastic figure obsessed with consumerism, advertising and shallow society.
In this work a more gentle Warhol emerges. He is seen relaxing at Eothen, his Montauk, Long Is-land, seaside home; enjoying Central Park where he found tranquility in the middle of Manhattan's madness; and skiing on the slopes and through the forestss in the Colorado mountains. Warhol's connection to nature, as surprising and unexpected as some may find it, ultimately led him to be-queath his multi-million dollar Montauk property to The Nature Conservancy, which established a preserve and visual arts program in his honor.
More Information
The exhibit will feature a selection of Makos's photographs centered on an unexplored, yet rich di-mension of Andy Warhol's life--his relationship with natural world—and be exhibited alongside Paul Solberg's well-known flower works.
Their combined work brings a celebratory approach to the natural world that is made even more meaningful by the historic exhibition venue. "Forest Hall", is an iconic, architecturally important 19th century bluestone building in the heart of Milford, Pennsylvania, which is known as the birth-place of the American Conservation Movement.
Christopher Makos was a close friend to and important influence on Andy Warhol in the 1970s and 1980s and his work documenting the eclectic world surrounding the "Factory", and the vibrant New York social scene of that era, have been featured in scores of exhibitions, documentaries and publications.