Andy Warhol Schlepped Here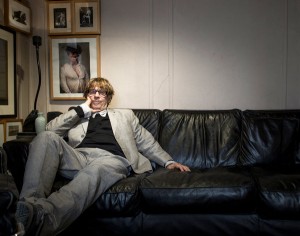 "I've been here for 40 years," he said, "and the only way I am ever going to leave is when they park a casket in the hallway. This apartment has history. All sorts of people have hung out here: Tennessee Williams. Debbie Harry. Tony Perkins. Roseanne Barr. Calvin Klein."
Although the walls can't talk, Mr. Makos can, and he's well qualified to analyze the metamorphosis of his once raffish neighborhood. "People like me can't afford to live here anymore," he said. "Today, they have to live in Bushwick."
Mr. Makos loves how the narrow, named side streets of the West Village look the same as they always have. "It's a landmarked neighborhood," he said, "and the view out my window will never change."
However, he is nonplused by the well-groomed suit-and-tie types who now call the Village home. "When I came to New York," he recalled, "they lived on the Upper East Side, which was then the center of everything. People don't remember that. Even Warhol lived on East 66th Street."
When Mr. Makos arrived in New York from Southern California in the late '60s, he gravitated to the Village because it was cheap. "I was a hippie," he said. "I came to New York because I'd met a C.P.A. who was driving a new Mustang cross-country and I thought, 'Why not?' I had no plans or ambition. It was all about living in the moment. It's still about the moment."
Mr. Makos goes with the flow. His rent-stabilized lease keeps him sanguine, and he doesn't mind that his 103-year-old building has a new owner who is renovating everything, turning empty apartments into luxury rentals. "This building is as old as the Titanic and so was the plumbing," he said. "They are doing a nice job of updating it."
What Mr. Makos loves best about his apartment is that it has given him freedom. "I could have bought a big loft or a country house, but then I would have high overhead," he said. "I don't like overhead, and I have friends with country houses. I don't need more than this. I travel all the time. What can I say? I have a very good life."
He doesn't dwell in the past, although he profits from it. While always working on new projects — he is heading to Macau in November to photograph the boxing superstar Manny Pacquiao, and he collaborates on digital diptychs with Paul Solberg under a made-up name, the "Hilton Brothers" — he earns a steady income from selling his old photographs of Warhol, especially his pictures of Warhol in drag.
He explains that he was never a Warhol acolyte or member of the Factory. "Andy was my friend," he said. "He was friends with me because I was so much fun. He wanted to be me. People never get it."
They were frequent traveling companions, too. "I first went to China with Andy in 1981," said Mr. Makos, whose book "Andy Warhol in China" is about a trip they took in 1982. "Now I spend a lot of time in China. They want to have everything we dreamed of having in the '70s and '80s — nightclubs and cars and summer homes. The Chinese love Warhol and everything Christopher Makos does. They are building over 200 museums, and they are going to need content. I am on the ground floor of that."
Every time he visits China, he has five custom suits made. "It's my new favorite thing to do," he said as he stepped into his windowed dressing room, where dozens of suits hang on a rod and scores of professionally laundered shirts are stacked on Metro shelving.
"This must have been a small bedroom at one time," he said, explaining that the previous tenants were two sisters who made sure he could take over their lease. "I've been lucky that I have never had to look for an apartment or deal with real estate agents."
Mr. Makos's bedroom is quite simple: a bed pushed up against the wall and a TV hanging over it, hospital-style; a Thonet chair that he uses as a nightstand; two Italian lamps; a trapezoidal dresser on wheels by James Evanson that he considers a postmodern masterpiece.
"I only live with things I like to look at," he said.
His spotless living room — he professes to be a vacuuming fanatic — is furnished with timeless pieces, including a pair of Russel Wright bentwood armchairs, a Corbusier armchair and a black leather sofa by Jean-Michel Frank. "It was designed in the '20s or '30s," he said. "It could not be more modern."
Nor could Mr. Makos, who exudes a boyish charm and manic energy that seem remarkable for a 65-year-old. He credits a healthy diet for his vitality as he walks into the charcoal-gray kitchen that he renovated himself, adding a Bosch dishwasher. "Two of my favorite possessions are my juicer and my shredder, which I use to make kale salad," he said
He stays fit by riding everywhere on his bicycle, which is parked in his foyer/office. "I love the new bike lanes, but I have one bone of contention — many people think they were designed for staring at your phone," he said with dismay. "People don't make eye contact anymore. They're looking at their phones instead. Remember when people used to cruise on the street and how much fun that was? I don't mean that in a salacious way. If you can't make eye contact, you are missing out on so much."
After 40 years in the Village, Mr. Makos is not easily shocked, but he was astonished by what he witnessed the other day. "I looked out the window and for the first time in the history of the building I saw golf clubs on the sidewalk," he said. "Young banker kids and four bags of golf clubs! To see that here is unbelievable."
A version of this article appears in print on October 6, 2013, on page RE4 of the New York edition with the headline: Andy Warhol Schlepped Here.
Dan Shaw

New York Times